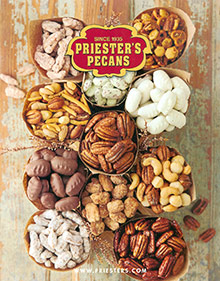 Priester's Pecans
Scrumptious pecans, pecan pies, pralines, candy, and gifts
Get 10% Off on your first order* Enter code - 6420 - at checkout on the Priester's Pecans website.
*Special Offers & Discounts apply to orders made online only. Does not apply to previous orders.
Discount not available in retail stores. Not to be combined with other offers. Some exclusions may apply.
Shop these Priester's Pecans departments now
Priesters Pecans catalog delivers a little flavor of the South with farm fresh pecans, traditional baked goods, pecan candies and gifts.