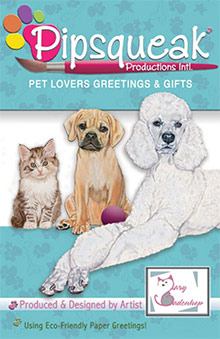 Pipsqueak Productions
Pet themed stationery with pictures of your favorite dog and cat breeds
Get Free Shipping on orders of $35 or more Enter the discount code - CAT123 - in the discount code box during checkout on the Pipsqueak Productions website.
Shop these Pipsqueak departments now
Since 1986, Pipsqueak Productions has been known as the dog and cat lovers catalog pet owners adore. Artist Mary Badenhop is well known for her witty interpretations and original illustrations of our favorite dog and cat breeds featured on a variety of stationery, greeting cards and gift items.