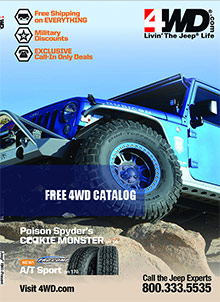 4Wheel Drive - Jeep Master Catalog
Jeep aftermarket parts and Jeep lifestyle accessories
Get Free Shipping on all orders You savings will be applied automatically at checkout on the 4Wheel Drive - Jeep website.
Shop these Jeep Master Catalog departments now
You love your Jeep. That's why you demand hard working, high quality parts and accessories when you're ready to do repairs or show-off your vehicle. From genuine body parts to performance brakes, engine, transmission, exhaust and drive train parts and accessories, the 4Wheel Drive - Jeep catalog has what you need.