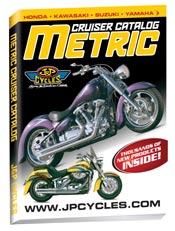 J & P Cycles-Metric Cruiser Motorcycle Parts
Quality parts and accessories for your V-Twin Metric Cruiser from tires to exhaust to brake lines, they've got you covered.
$10 Off your order of $100 or more, good online or on your first catalog purchase! Enter the coupon code - 101 - during online checkout on the J & P website to receive your discount.
Shop J & P Cycles-Metric Cruiser Motorcycle Parts Now!
For V-Twin Metric Bike parts that will keep your Metric bike cruising in style, take a ride to
J & P Cycles® - Parts & Accessories for your Metric Cruiser. Motorcycle exhaust, motorcycle brake lines, motorcycle windshields, motorcycle tires, motorcycle seats and other fine motorcycle parts to maintain, restore or upgrade your Metric Cruiser.
Metric motorcycle parts - Whether it's a Yamaha motorcycle, Kawasaki motorcycle, Suzuki motorcycle, Honda and Gold Wing or Victory motorcycle, J & P Cycles® catalog brings you a huge selection of over 15,000 high quality motorcycle parts and accessories.