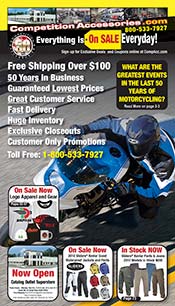 Competition Accessories ®
Competition Accessories motorcycle accessories catalog for all of your ATV and motorcycle riding needs
Get Free Standard Ground Shipping on orders of $100 or more plus an additional 10% Off most products. Enter the coupon code - CATCOM - at checkout on the Competition Accessories website.
Shop these Competition Accessories ® departments now
Shop Competition Accessories ® Now!
The motorcycle accessories catalog that all the cool riders turn to, for slick deals on motorcycle riding accessories, apparel and gear.