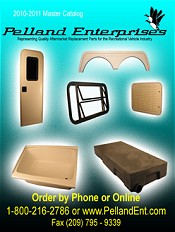 Pelland RV
RV parts and accessories from the top RV parts catalog
Get 15% Off orders of $100 or more. Enter the savings offer code - CATALOGS - in the comments box at checkout on the Pelland Enterprises website.
Shop these Pelland Enterprises departments now
Your on line resource for hard to find RV parts and accessories from RV doors to windows and more from the Pelland Enterprises RV parts catalog.