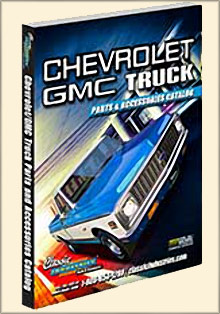 GMC Truck Parts from Classic Industries
Truck Restoration Parts – Restoration truck parts online for classic and late model GMC trucks
Get up to 15% Off on purchase through Catalogs.com Enter the Promo Code - C73TK - at checkout on the GMC Truck Parts from Classic Industries.
Shop these GMC Truck Parts departments now
The new Classic Industries truck catalog has been extensively reconfigured to offer more than 600 pages of parts and accessories for Chevrolet and GMC trucks from 1947 to 2008. The new layout organizes body components by vehicle generation with related truck restoration parts grouped together conveniently to make finding products a very simple process. Once again, Classic Industries sets a new standard in restoration.