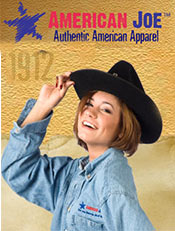 American Joe Apparel - Wholesale
All American clothing - Wholesale clothing that is 100% made in the USA
Shop these American Joe Apparel departments now
Shop American Joe Apparel Now!
American Joe is the home for all American clothing that symbolizes American pride, with classic casual clothing styles that are proudly Made in the USA.
All American Clothing & Accessories - If you're proud to be an American, you'll be proud to fill your stores with clothes that capture the spirit and adventure that our country is known for.