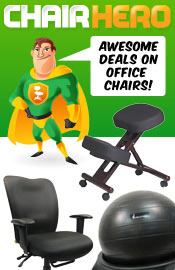 ChairHero B2B
Buy office chairs online, from mesh computer chairs to ergonomic office chairs
Get 3% off your entire purchase Enter the code - CATALOGS3% - in the coupon code box at checkout on the Chair Hero website.
Shop these Chair Hero departments now
Furnish your office or workspace in style. Buy office chairs online from a super selection of value priced computer chairs for all of your office seating needs.
Task Chairs - Tired of uncomfortable, overpriced office chairs? You'll take your office seating from zero to hero when you buy office chairs from ChairHero.com's extensive selection of premium office seating, available at unbeatable prices.