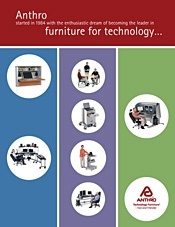 Anthro Technology Furniture
Workstations and office furniture to fit the human form
Shop Anthro Technology Furniture Now!
For ergonomic office solutions, or industrial and laboratory furniture, turn to Anthro. They have the flexible options your business needs, including:
Medical and industrial mobile work stations -- Take your work out onto the warehouse or hospital floor with their ergonomic office equipment designed for on-your-feet computations, data entry, and other computer use.