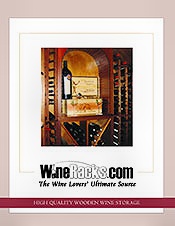 WineRacks.com Commercial
Large wine racks and wine coolers for commercial wine storage use
Get 15% Off your online order Enter the code - CATMAY09 - at checkout on the WineRacks.com website.
Discount only applies to orders placed online, to product only, not shipping or sales tax. Prior purchases and phone orders are not eligible.
Helping countless Wine and Liquor store owners and restaurateurs create the perfect fixtures and displays for their businesses since 1992, Wine Racks.com features a handsome large wine rack supply that will house your products in style.