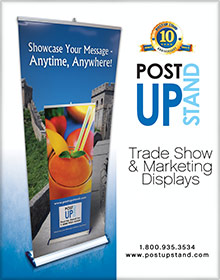 Post-Up Stand
Banner stands and promotional displays for your business
Get 10% Off all orders Enter the coupon code - C14 - at checkout on the Post-Up Stand website.
Cannot be combined with any other offers, promotions, volume discounts or Trade Show Specials.
Shop these Post-Up Stand departments now
Showcase your brand or message anytime, anywhere, with Post Up Stand wholesale catalog innovative retractable banner stands, displays and large format printing services with great coupon code purchasing incentives.