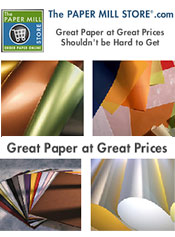 The Paper Mill Store
Wholesale paper goods from paper and envelopes to cardstock, office supplies and more
Get 10% off all custom printed envelope orders plus Free Shipping on orders of $199 or more Enter the coupon code - CATALOG01 - for custom envelope print orders during online checkout on The Paper Mill Store website.
Wholesale paper goods from one of the leading online wholesale paper suppliers, featuring over 7,000 brand name papers in stock.
Wholesale Paper Goods - When it comes to paper, Paper Mill serves as a go-to source for any business, giving your company access to the biggest brand name paper selection paired with the best prices. Browse an extensive range of wholesale paper goods with all of the leading brands represented.