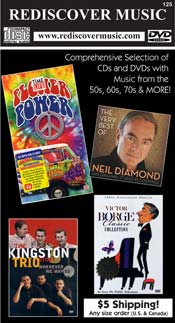 Rediscover Music
Classic Rock, Jazz and Folk music CDs and DVDs
Get a 20% discount on your first purchase plus Free Shipping to the US and Canada Enter the code - CC20 - during checkout on the Rediscover Music website.
Shop these Rediscover departments now
Having trouble finding CDs of your favorite music? With record stores having disappeared, does it seem like you have to go to digital downloading for the music you love? 'Tain't so! Rediscover Music has a treasure trove of folk, classic rock CDs, fifties pop, jazz, easy listening, and a whole lot more on CDs and DVDs. Not only can you play them on the equipment you already own, you can hold them in your hands and read the liner notes while you're listening.