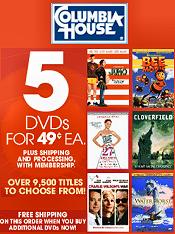 The best new releases on DVD from Columbia House DVD Movie Club
Columbia House DVD Movie Club has the best selection of top selling movie DVDs and hit new releases out today - featured at Catalogs.com.
Get 5 DVDs for 49 cents each with membership Your special offer will be applied automatically when you place your order on the Columbia House DVD Club website.
Shop Columbia House DVD Club Now!
New releases on DVD - If you didn't make it to the movie theatre in time to see the newest hit blockbuster, don't sweat it! Just walk on through Columbia House's door and order all of the new DVD releases you've been dying to see.