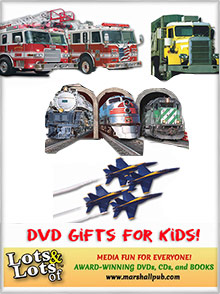 DVD Gifts For Kids
Kids videos from fire truck movies to DVD's about trains, trucks, space and more
Get Free First Class Shipping on all purchases Please enter the Coupon Code / Promotional Code - CAT107 - at checkout on the DVD Gifts for Kids website.
Shop these DVD Gifts departments now
The Award-winning network quality DVD programs - "Lots and Lots of Trains" and "Lots and Lots of Fire Trucks" movies are perfect for Gift Giving, Holidays, Birthdays, Parties, Homeschooling and more! From Fire Trucks and Trains to Monster Trucks and Jets and Planes, plus many more, your kids will love every minute of the "Lots and Lots of" series for kids and families from 3 to 93! Plus, they've got Books and CD's at special savings, too! They've even got some programs for parents and grandparents too!

Each of their products comes with an UNCONDITIONAL 60-DAY MONEY-BACK GUARANTEE (Less S&H)! All items are in stock and ship directly from their warehouse. RUSH DELIVERY is also available for those last minute gifts!