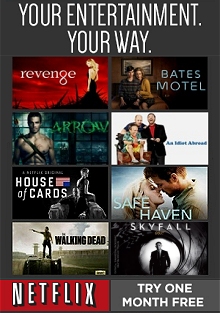 Netflix
Instantly watch as many TV episodes & movies as you want!
Try Netflix Free for 1 month Your free 1 month Netflix membership will begin when you click on "Start Membership" during the registration process. Simply cancel anytime during your 1 month free membership, and you will not be charged.
Since bursting on the video rental scene back in 1997, Netflix has quickly become a household name, bringing movie lovers across the U.S. new video rental releases right to their doors and instant entertainment through their favorite devices! Netflix not only offers flat rate video rentals online, but they also bring you unlimited online streaming from a collection of thousands of titles! Netflix is the easiest and most convenient way to rent DVD's and watch movies instantly, without ever leaving your couch!