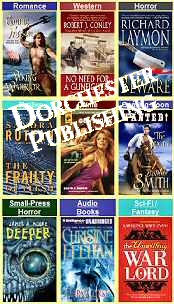 Dorchester Publishing
Romance novels, thrillers, horror stories and books you can't put down
20% off all book orders of $35 or more
Book Club members save 30% always! Enter code HOLIDAY08 at checkout
Additional savings on website...click for details
Shop Dorchester Publishing Now!
Dorchester Publishing House is the Home of Leisure Books and Love Spell titles! Dorchester online bookstores bring you the romance novels you desire specializing in romance stories, horror thrillers and even more entertaining titles!
Romance stories - If you're a sucker for romance stories of love, pick up a romance book or two from Dorchester Publishing's online book stores! Get lost in lush Historical stories of romance, edgy Paranormal Romance books, mystery romance books, action-packed romantic suspense, Chick Lit, epic fantasy romance, Futuristic Romance books and so much more in a catalog filled with other gripping romantic genres!



Horror thrillers - Aching for some real scary stories? Head to Dorchester bookstores online to pick up a few horror books filled with tales of horror, murder and mayhem that will keep you on the edge of your seat! For globe-trotting international intrigue to edge-of-your-seat suspense, look to authors such as Gregg Loomis, Haggai Carmon, Stacy Dittrich, Sandra Ruttan.