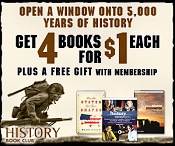 Books that bring history to life - from Civil War to World History books
The History Book Club brings you the best in world history books, from the military history of the United States and Europe, including civil war books, to ancient history and cultures - featured at Catalogs.com.
Get 4 books for $1 each plus a Free Gift with membership. Your Special Offer will be automatically applied at checkout on the History Book ClubŪ website.