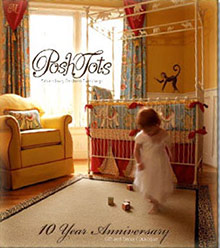 Posh Tots
The most extraordinary baby furniture, accessories and luxury baby bedding
Save $20 off your first order of $100 or more Use discount code - 2010catalogue - at checkout on the Posh Tots website. Excludes furniture.
Shop these Posh Tots departments now
PoshTots is celebrating ten years as the ultimate purveyor of fine furnishings and decor for nurseries and children's rooms. Luxury baby bedding, custom furniture, must-have decor accessories and designer diaper bags make PoshTots a favorite among celebrity parents and moms and dads around the world.