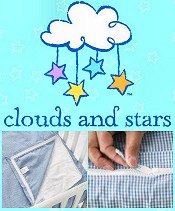 Clouds and Stars
These unique baby bedding sets make changing crib sheets a snap
Get 10% off orders of $50 or more Enter the promotional/coupon code - catalogs2012 - at checkout on the Clouds and Stars checkout cart.
Shop these Clouds and Stars departments now
The founders of Clouds and Stars understand how often you have to change crib sheets. That's why they've made it easier and quicker with zip on/zip off baby crib bedding sets, and other unique baby crib bedding.