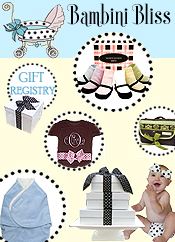 Beautiful baby clothes and personalized items for your baby boy or girl
For personalized baby items, adorable baby boy clothes, baby girl clothes, and baby gifts for newborns to the first birthday, shop Bambini Bliss - featured at Catalogs.com.
10% OFF all orders! OR 20% OFF orders of $100 or more! Enter code - CAT10 - for 10% OFF OR
enter code - CAT20 - for 20% OFF
for each item during checkout on the Bambini Bliss website.
Baby shower gifts - From a baby shower cake made of diapers to a DVD made just for new dads and dads-to-be, gifts from Bambini Bliss are always something special.



Adorable baby girl clothes - When you browse their collection of adorable newborn clothing, the hardest part will be deciding which of their so-sweet baby girl clothes to select.