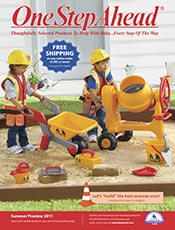 One Step Ahead
Baby products Super Store - Toys and furnishings to keep your baby one step ahead
Get Free Shipping on orders of $85 or more Enter the Promotion Code - SHIP85 - at checkout on the One Step Ahead website.
Shop these One Step Ahead departments now
Let the One Step Ahead catalog and online baby products stores make shopping for your new baby easier. Choose from the latest in baby care gear.