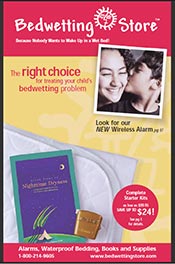 Bedwetting Store
Bedwetting Store – From Malem bedwetting alarms to kid's bedding and more bedwetting solutions
Get $5 Off any bedwetting alarm or starter kit! Enter the Promotion Code - CATALOG - during online checkout on the Bedwetting Store's website.
Shop these Bedwetting Store departments now
The Bedwetting Store catalog is where parents go to find answers to all of their questions and for powerful bedwetting solutions, from Malem alarms, briefs and bedding to practical tips and helpful info to help your child conquer bedwetting for good.