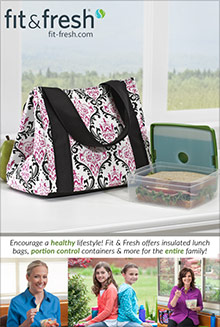 Fit & Fresh
Reusable insulated lunch bags, chilled lunch containers and much more for the entire family!
Get Free Shipping on all orders Enter promo code - CATALOGS - at checkout on the Fit & Fresh website.
Shop these Fit & Fresh departments now
Pack a healthier, eco-friendly lunch for yourself or your kids! Fit and Fresh helps families eat healthier at work, at school and on the go. Keep healthy snacks and lunches fresh for hours, ready to eat at lunch time. Adults will love sophisticated patterns and the versatility of their lunch bags, and kids will enjoy packing and eating healthier snacks in their fun, bright, easy to use containers.