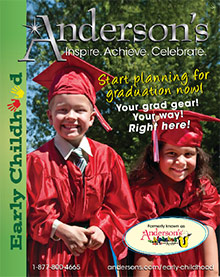 Andersonís Early Childhood Development
Preschool and kindergarten personalized school supplies, graduation ideas and products
Get $5 Flat Rate Shipping on popular items Your savings offer will be applied automatically at checkout on the Andersonís Early Childhood Development website.
Shop Andersonís Early Childhood Now!
Plan your students' first graduation with all the Pomp and Circumstance of the real thing. You'll find great preschool and kindergarten graduation ideas, personalized gifts and early childhood school supplies.