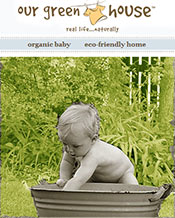 Our Green House
Organic baby items from organic baby and toddler clothes, baby socks, sheets and more organic items
Get 10% Off your first order + 10% Off all your registry items Enter the Coupon code - catalogs - at checkout on the Our Green House website.
Shop these Green House departments now
Celebrate real life the natural way with organic baby items from onesies and organic toddler clothes. Create an eco friendly home with natural cleaners, organic mattresses and natural nursery.