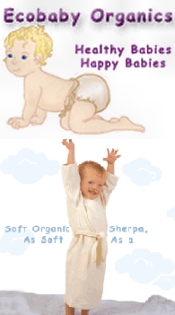 Organic diapers, linens, clothing, and toys as natural and pure as your baby
Ecobaby Organics featured at Catalogs.com. Treat your baby to the comfort of organic cloth diapers, natural baby bedding and other safe, pure organic baby products.
10% OFF your entire order! Your discount will be applied automatically during checkout.
Organic cloth diapers -- Why use hard and uncomfortable plastic diapers when your can wrap your baby in the comfort of Ecobaby diapers. Made of pure organic cotton, their cloth diapers are available in prefolded and regular.