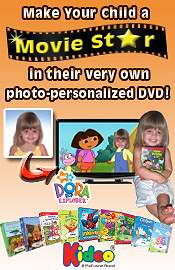 Kideo - Personalized DVDs
Let your kids be the stars of the show with personalized DVDs and videos
Receive $5 Off any order! Enter the certificate code - cc55 - in the Promotion Code box (step 4) at checkout on the Kideo website.
Shop Kideo - Personalized DVDs Now!
If your children love watching PBS, Nickelodeon other children's shows like Dora the Explorer and Barney, or adventure heroes like Spiderman, Kideo lets you order a personalized kids video or DVD, featuring their favorite characters talking directly to them!