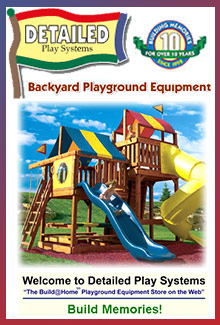 Detailed Play Systems
The ultimate residential playground equipment store - You build it and save!
Get Free Shipping on orders of $199 or more plus $5 off orders of $50 or more Enter code - DPSCATS5 - at checkout on the Detailed Play Systems website.
Shop these Detailed Play departments now
Detailed Play Systems offers a complete line of residential playground equipment designed to help parents build the ultimate backyard playground for their children! You just supply the lumber - they have everything else.