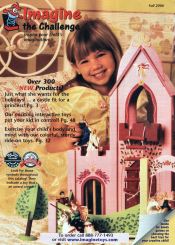 Toys that last, toys that teach, toys that children love
Imagine the Challenge featured at Catalogs.com. A very special toy store, offering classic children's wooden toys, today's most popular learning toys for children, timeless Breyer horses and dolls, toys for make-believe, unique science toys and so much more.
10% Off all orders! When linking directly from Catalogs.com you will see the prices for Imagine The Challenge slashed by 10% automaticaly. If going to ImagineToys.com later, note the claim code FH0210 on the checkout page when ordering, and 10% will be taken off.
Shop Imagine The Challenge Now!