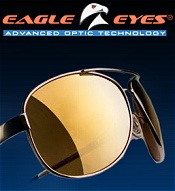 Eagle Eyes Sunglasses - OLD
The best sunglasses - Best aviator sunglasses, polarized sunglasses and FitOns from Eagle Eyes Optics!
Get Free Shipping with order of two or more pairs Enter the coupon code - CAT8Z - at checkout on the Eagle Eyes Sunglasses website.
Shop these Eagle Eyes departments now
Experience the visual difference with the best sunglasses ever created, from Eagle Eyes Sunglasses. Eagle Eyes were developed from Original NASA Optic Technology, are certified by the Space Foundation for UV and Blue-Light Protection and is Winner of the NASA/Space Foundation Technology Hall of Fame Award!