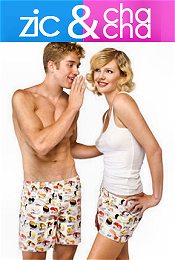 Zic & Cha Cha
Boxer shorts for women & men - Fun, matching pajama boxer shorts for girls and guys
Get 15% Off your first order Enter the Promo Code - CHACHA - in the Promo Code Box at checkout on the Zic & Chacha website. Not valid with any other offers.
Shop these Zic & Cha Cha departments now
Matching boxer shorts for women and men, featuring mischievously fun pajama boxer shorts sets for mischievously fun couples.