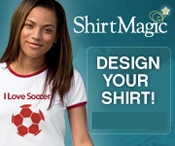 Shirt Magic
Design a custom t-shirt, personalized sweatshirt, hat & more - Order 1 or 1,000
Get 20% off on any custom t-shirt order. No minimum order. Enter the coupon code - Cat2008 - in the coupon code box during checkout on the Magic Shirts website.
Shop these Shirt Magic departments now
Imagine a website where you can design your own sweatshirt, design a t-shirt, or create a custom hat, bag or poster. Order a hundred, or just one. It's up to you. That's the magic of Shirt Magic.