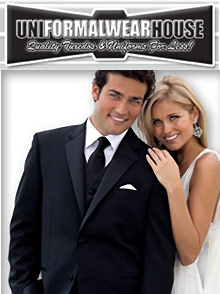 Uniformalwearhouse
Men's tuxedos for all occasions
Get $5 OFF on any order of $50 or more*
Plus..Shipping is FREE for orders of $250 or more** *Discount cannot be combined with any other offer or promotion
Enter code - CATALOGS.COM - in the discount code box on the customer information page during checkout.
**Restrictions apply. Please check the Uniformalwearhouse website for details.
Shop these Uniformalwearhouse departments now
Uniformalwearhouse is the place to buy men's tuxedos for all occasions. From a simple cut to a classic tuxedo with tails, they have the right formalwear for every event.