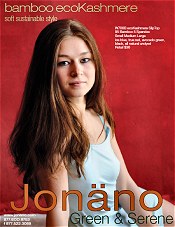 jonano - eco chic collections
Eco fabulous hemp, bamboo and natural fiber clothing that will get you noticed
10% Off all orders of $75 or more and Free shipping for orders over $100! Enter the code - sstyle10 - during online checkout on the jonano website to receive your discount.
Shop jonano - eco chic collections Now!
Inspired by nature, at jonano - eco chic collections you'll find the most stylishly elegant collections of organic fashions for both women and babies. Hemp clothing, Bamboo clothing and organic clothes made of other natural fibers come together to create earth friendly clothing as well as stunning, head turning looks.
Natural fiber clothing - Fashion that breathes with you, jonano brings you natural, organic cotton clothing that not only looks good, but feels luxurious.