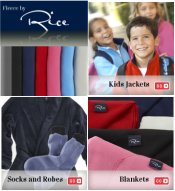 Terry and Fleece by Rice Mills
Terry and fleece robes, jackets, blankets, P.J.ís, and cover-ups, direct from the factory
Orders of $60 or more, receive FREE shipping! Enter the code - GRJ4 - into the Promo Code Box located on the billing page at checkout on the Terry and Fleece by Rice Mills website.
Shop Terry and Fleece by Rice Mills Now!
There's nothing cozier than a fleece jacket or luxury terry cloth robes on a cold day or night. But if you want the very best for the very best price, Terry and Fleece by Rice Mills is the catalog you need for fleece wear at prices 50% to 80% less than retail. Choose from:
Menís and womenís fleece jackets that keep out the cold
Childrenís warm, durable fleece zip jackets,
A cozy fleece throw blanket, available in a rainbow of colors
Snuggly childrenís robes and fleece pajamas
Spa-style luxury terry cloth robes
Thirsty terry cloth cover-ups for beach or pool
-- Favorite Kidís Robes, Pajamas and Jackets
Terry and Fleece by Rice understand kids.