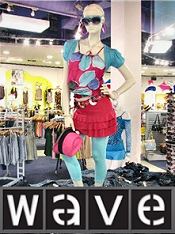 Wave Fashion
Trendy fashions - from dresses to tunic tops
Free Shipping on orders of $50 or more Enter code - CATALOG50 - at checkout on the Wave Fashion website.
If you're always raiding the stores for the hippest, trendiest clothing styles and fashions available, find an ocean of trendy designs to choose from at Wave Fashion. Whether you're going clubbing, have a hot date or just spending a day at the mall, catch the Wave with Wave Fashion for the latest in trendy women's clothes and teen fashion trends.
Trendy dresses - Looking for a change of a dress? Find a wave of trendy dresses your girlfriends will beg you to borrow, over a hundred to choose from! From mini to maxi fashions, printed to solid, choose from:



Halter dresses
Ruffled dresses
Flowy dresses
Multi-colored dresses
Strapless dresses
Open back dresses and more!



Tunic fashions - If you've picked up a fashion magazine any time in the past year, you'll know that tunic tops are all the rage.