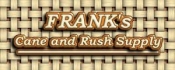 Frank's Cane And Supply
Caning, wicker, rattan, and bamboo supplies
Shop Frank's Cane And Supply Now!
Caning supplies -- You'll find everything you need for chair caning, including natural and plastic cane, caning tools, spline, and pegs.
Wicker and rattan materials -- Repair your wicker furniture with the reed, tools, upholstery supplies, and hardware you need to restore or re-do any damage.