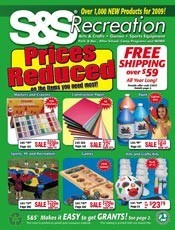 Craft making kits and arts & craft supplies for kids and adults
S&S Worldwide has the widest selection of craft making kits from kids craft kits to art craft kits for adults and plenty of arts and craft supplies - featured at Catalogs.com.
Get Free Shipping on orders of $39 or more Please enter the offer code - W2882 - at checkout on the S&S Worldwide website.
This offer is not valid on purchases made with any other offers.
Shop S&S Worldwide Crafts Now!
Arts and crafts supplies - Stock up your arts and crafts supply closet with everything you need to create fine arts and crafts masterpieces - from crayons, markers and coloring supplies to paints, paintbrushes, stains and easels! Whether you need to tape it, glue it, foam it, glitter, velcro or trim it, S&S has a rock-paper-scissors worthy supply of tools and craft making kits that are totally state of the art!
Craft making kits - When it comes to arts and crafts making, S&S Worldwide has it down to a fine art.