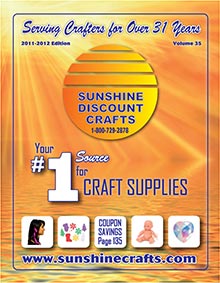 Sunshine Discount Crafts
Discount art supplies for jewelry making and other crafts from Sunshine Discount Crafts
Get $5 off orders of $50 or more Enter promo code - CATCOM550 - and click "Save Changes" in your shopping cart when placing an order on the Sunshine Discount Crafts website.
Shop these Sunshine Crafts departments now
Find all of the discount craft supplies you need in one place at deeply reduced prices! Serving crafters for 28 years, Sunshine Discount Crafts is one of the leading arts and crafts suppliers offering over 14,000 discount craft and jewelry supplies!