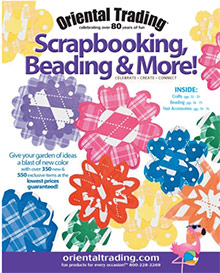 Oriental Trading - Beads
Sensational Beads for your beading crafts and jewelry from Oriental Trading Company
Get Free Delivery on orders of $49 or more Enter - WSTCC15 - in the key code section of your order form during checkout on the Oriental Trading website. Valid in the contiguous US.
Shop these Oriental Trading departments now
When it comes to bead shops, why settle for anything short of sensational? Oriental's got the beaded jewelry kits, bead supplies, and everything else you need to create the most brilliant bead crafts.