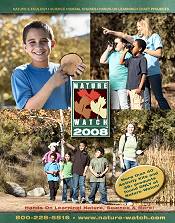 Explore nature, science and ecology
The Nature Watch catalog is filled with natural history, ecology, and earth science activities, from hands on science for kids to educational science activities, featured at Catalogs.com.
Nature center exhibits - From turtle shells and animal skeletons to snakeskin and dinosaur footprints, they have everything to bring exhibits to life. This is exciting hands-on science for kids, where they can pick up and touch real and replica models of nature's masterpieces -- let the learning begin!
Natural history activity kits - Get your students or campers involved in learning with one of their activity kits designed to teach children about nature.