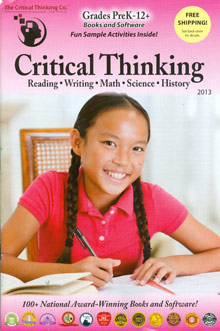 The Critical Thinking Co.
Teach critical thinking skills with academic books, software and DVDS in core subject areas
Get $5 off your first order of $45 or more Enter the Discount Code - CATALOGS - at checkout on The Critical Thinking Co. website.
"If we teach children everything we know, their knowledge is limited to ours. If we teach children to think, their knowledge is limitless." For over 50 years, the Critical Thinking Co. has been empowering the mind by creating award-winning products that help teach critical thinking skills to students of all ages. By designing critical thinking into reading, writing, math, science and history lessons, students carefully analyze what they are learning with amazing results!