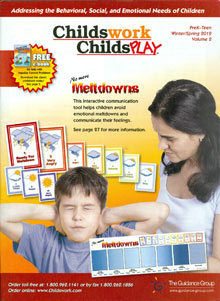 Childswork Childsplay - Counseling Resources
Therapy games - Play therapy games and therapy tools for children
Get Free Standard Shipping and handling on all web orders in the continental U.S. Enter the key code - WAAV - at checkout on the Childswork Childsplay website or on your purchase order to receive your savings.
Shop these Childswork Childsplay departments now
Shop Childswork Childsplay Now!
Childswork/Childsplay is the leading provider of play therapy tools, resources and training programs in the United States, focusing on therapeutic tools and therapy games used by counselors and family/child therapists to address the social and emotional needs of children and adolescents.