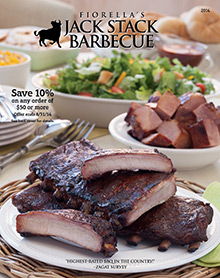 Jack Stack Barbecue
A Remarkable BBQ Experience delivered straight to your door
Get 10% Off all orders Enter code - CATALOG10 - in your shopping cart on the Jack Stack Barbecue website.
Discount will be applied at checkout.
Shop these Jack Stack Barbecue departments now
The votes are in, and Fiorella's Jack Stack Barbecue comes up a winner. The Zagat Survey calls it the "highest-rated BBQ in the country." It's Kansas City-style BBQ at its best, and you can have it in all its hickory-smoked glory where you live.