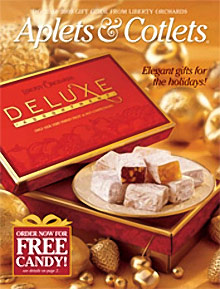 Aplets & Cotlets
Gourmet fruit-and-nut candies and specialty food gifts
Get a Free box of Lemonade Sparkler Duos with any order of $59 or more Your Free gift will be applied automatically at checkout on the Aplets & Cotlets website.
Shop these Aplets & Cotlets departments now
Since 1920 Aplets & Cotlets have been a beloved American Christmas tradition for giving, sharing, and holiday entertaining. Liberty Orchards products feature mouth-watering varieties of fruit-and-nut candies, with sugar-free, nut-free, and chocolate versions, delicious Orchard Bars, homestyle treats, baked goods, and holiday food gifts.