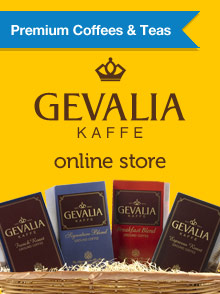 Gevalia Coffee
Over 50 varieties of premium Gevalia coffee and tea. Taste your way around the world with all their exotic and unique varieties.
Get 15% off any purchase Get this special offer by clicking on a category below. Your savings will be applied automatically at checkout on the Gevalia website.
Shop these Gevalia Coffee departments now
Since 1853, Gevalia has been making premium coffee and tea that is always rich, never bitter. Your satisfaction is 100% guaranteed!