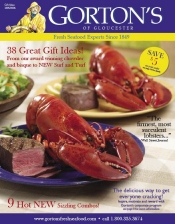 Gorton's of Gloucester
Gourmet Lobster & seafood, fresh from the shore to your door!
For orders of $75 or more, receive 10% Off Enter the certificate code - CAT106 - into the Claim Code Box located near the bottom of Gorton's Checkout page.
Shop Gorton's of Gloucester Now!
Gorton's of Gloucester delivers premium, quality fresh seafood! Now you can buy live Maine lobster by mail order or buy lobster online from the company known as, the fresh seafood experts since 1849!

Gorton's has put their years of experience to work for you to make sure that their fish, crab, shrimp and fresh live lobster by mail is the freshest, most succulent seafood available.