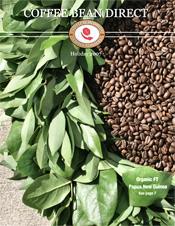 Coffee Bean Direct
Coffee and tea lover's paradise with coffee, tea and gourmet gift baskets
Free Shipping on 25lbs. or more! This offer will be applied automatically at checkout on the Coffee Bean Direct website, when your order is 25 lbs. or more.
Coffee lovers, beware! Once you sample the incredible variety of blends and roasts from Coffee Bean Direct, you will want to try each and every one! They've searched the world for the finest specialty gourmet coffee and flavorful teas. Now you can enjoy their delicious coffees and teas, or send exceptional gourmet coffee and tea gift baskets. Choose from:
The world's best coffee - From Kona and Sulawesi to Brazil and Zaire, they have gathered the world's best coffee beans.